Last Updated on December 2, 2022
Did you think that the annual entertainment with the German income declaration is more than enough for you? By the way, you can find by me how to fill it out.
This year the state decided that the fun should be extended. If you own any real estate, from July to October you must file a Real estate declaration about it.
Read futher how to fill out Grundsteuererklärung – real estate declaration in Germany
It can be interesting for you:
German tax return Elster online
Joint building ventury (Baugemeinschaft)
Insurance for travel abroad
The reason is the real estate tax (Grundsteuer) reform. The Constitutional Court decided that in the current form – "how the commune says on the basis of data from 1935 (East Germany) and 1964 (West Germany)" – this tax should not exist.
Many wrote about the reform, but for some reason they kept silent about some obligations of property owners. It is not only this secrecy that raises questions, but also the extremely short period for filing a declaration.
How to submit declaration
The declaration must be submitted electronically by everyone who received ownership of a land plot, house, apartment, forest or agricultural plot before January 1, 2022. They promise that it will be available in Elster. You can use also WISO Grundsteuer*. So far I have not found anything in Elster for the month of March.
In any case, it is impossible to submit in paper form. You need to submit to the tax office at the location of the real estate. Registration in Elster, if you don't have any, take about 2 weeks.
A tax consultant can help with declaration, but not LoHi (Lohnsteuerhilfeverein).
After everyone has filed declarations, the tax offices will think and count three years. Simultaneously communes will think and decide how much they want money. As a result, from 2025 you will receive a new amount of Grundsteuer. I must say that the old one was rather big, so I don't believe in reducing it. Unless in places with negative population growth. They promise greater justice, and I think that justice will look like this: those who have a good place and property will pay significantly more, those who have property and a worse place will pay the same or a little more.
What to indicate
This form is called declaration Feststellungserklärung. The content depends on the federal state.
As a rule, these will be:
Even the area of housing can raise questions if it was rebuilt. And the Bodenrichtwert is a pig in a poke.
What is required for the real estate declaration in different federal states
For Brandenburg, Thuringia, Saarland, Mecklenburg-Western Pomerania and Rhineland-Palatinate so far no detailed explanation has been posted.
Bavaria
The Bavarian tax office explains questions on Grundsteuer
Baden-Württemberg
promises to make the Bodenrichtwert publicly available on www.grundsteuer-bw.de until 30 June.
Berlin
Flyers with information about Grundsteuer and declaration Feststellungserklärung in Berlin – depending on the type of housing – see on the site.
Bremen
indicates the required data for declaration (pdf) There is also a link to where to find them.
Hamburg
Sample declarations Feststellungserklärung in Hamburg are already available, as well as instructions for them.
Hesse
Explaines about real estate declaration on the site. In Hesse they want:
16-digit reference number (Einheitswertaktenzeichen or similarly named)
address and location of the property
names and addresses of all owners
Extract from Grundbuch: Gemarkung, Flur and Flurstück, size of the property, Grundbuchblattnummer and parts of different owners
living space
Bodenrichtwerte, already known in Finanzverwaltung
Lower Saxony
Explanation about real state declaration (pdf). The location data of the property will be reported to the Grundsteuer-Viewers.
Saxony-Anhalt:
For all:
Aktenzeichen,
location, address,
Gemarkung,
Grundbuchblattnummer,
Flur, Flurstücknummer etc.
For residential areas (Ertragswertverfahren):
property type (Grundstücksart),
land area (Grundstücksfläche),
Bodenrichtwert,
number of apartments,
living area,
co-ownership share (Miteigentumsanteil),
construction year (Baujahr),
number of garages and parking spaces
For undeveloped areas: Grundsteuerwert, multiplied by area and Bodenrichtwert.
Grundsteuerwert will be known from Grundsteuerwertbescheid, to be sent by the tax office. It must send also Grundsteuermessbescheid.
Saxony
You find here information about declaration Feststellungserklärung in Saxony. Information on the value of the Bodenrichtwert will also be available on the website from July.
Schleswig-Holstein
Explains what consists real estate declaration in Schleswig-Holstein
How real estate tax will be calculated from 2025
Why different federal states want different data?
The calculation will be made either according to the federal formula, or according to the own formula of a particular land.
Federal formula
Grundsteuerwert (land value, location, type of property, its quality)
*
Grundsteuermesszahl (coefficient for a specific type of property, for example 0.31 for residential)
*
Hebesatz (coefficient set by the commune))
Land formulas
There were seven who went their own way:
Baden-Württemberg
real estate area and its value (Bodenrichtwert) amount to Bodenwert,
*
Grundsteuermesszahl (0,91 for residental areas)
*
Hebesatz
Bavaria
will proceed purely from the area of the property
4 cents per sq m of land, 50 cents per sq m of buildings)
*
Grundsteuermesszahl (for example 70 cents for residental)
*
Hebesatz.
Do you have any more questions? Use comments ⇓ or private communication form ⇨
Hamburg
will take into account the location of the property.
4 cents for sq m of land, 50 cents per sq. m building
*
Grundsteuermesszahl (in good place for residental 70%, in normal place 52,5%)
*
Hebesatz
Hesse
Calculates in the same way as Bavaria, but adds an additional factor to the result, derived from the value of the Bodenrichtwert property and the average for the municipality of Bodenwert. The result will be multiplied by Hebesatz.
Lower Saxony
Calculated similarly to Bavaria and multiplied by the location factor.
Saarland
Changes in the federal model Grundsteuermesszahl to 0.34 and 0.64
Saxony
also increases Grundsteuermesszahl by 0.36 and 0.72
A good table, redone from the Ba-Vu site, what is taken into account in which land.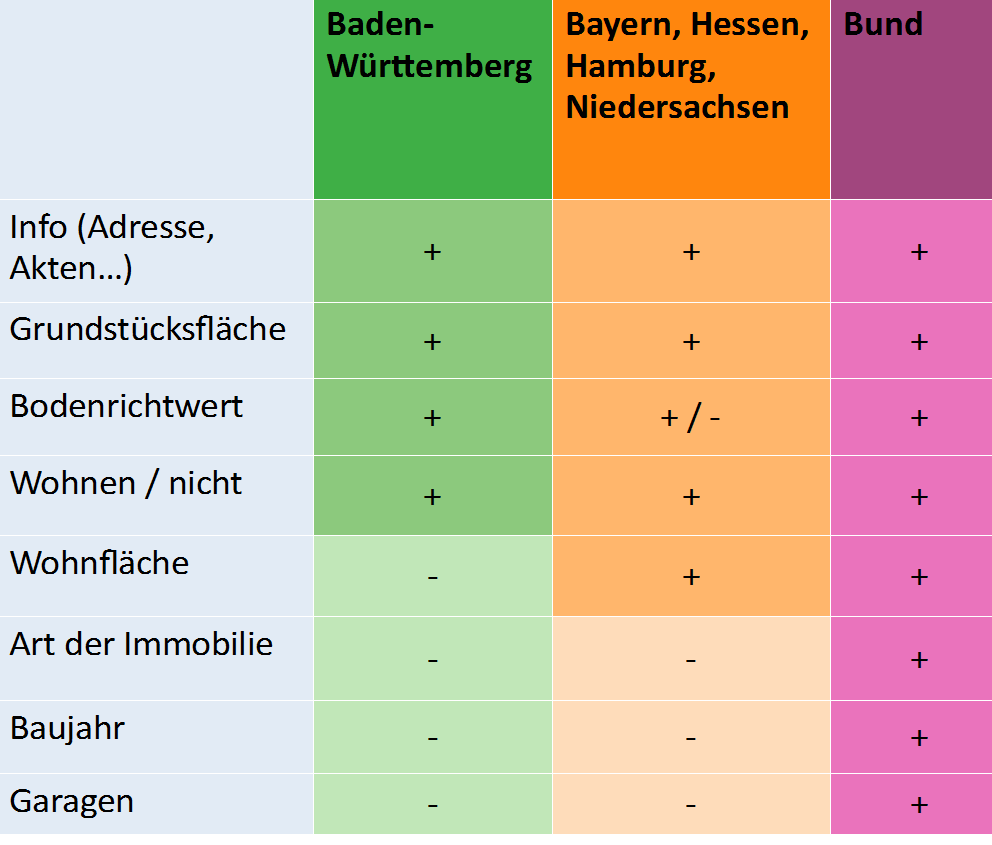 *Affiliate Links
You may be interessted also:
German tax refund – What I can claim to return
Home office in german tax return
Fighting mold and condensation