Last Updated on September 24, 2023
When I tell those who have not yet had time to learn the language that the library in Germany is already waiting for them and will be very useful, they usually answer me with round eyes: "I can not find things in the supermarkt, but you are talking about the library." However, later, when 5-6 years pass, the reaction after the first visit is usually different: "Why didn't we go earlier?"
10 best online German dictionaries
Books for 3-4 grade (in German library)
Secondary school in Berlin – Brandenburg and other federal states
4th grade. Gymnasium or Realschule?
Non-Speaking child. Speech delay treatment in Germany
Bilingual children. 1
School supplies in Germany. 2. Pencils, pens (Füller) and others
German primary school. Deutsch in grades 3-4
Why you might need a library in Germany
it has many German courses from level A1 to level C1, grammar books and CDs. All this together will cost enorm if you decide to buy everything yourself. Of course, you can't write in books. But if you have to rewrite the exercises, then you will remember everything much better.
you will find many films for both children and adults. Most films have at least German and English audio tracks.
children's departments tend to be very rich. You will find in them all the popular books with illustrations for kids of recent years.
there are also bilingual books or books in your own language in the children's departments. Not so much, but nonetheless. Usually they are donated to the library from personal libraries when the children grow up, and, as you understand, no one will order completely nonsense books to Germany for decent money.
there are also plenty of board games!
along with your library card, you also get access to the online library, and it is constantly updated
libraries in Germany have various special offers for foreigners – from a language cafe where locals come to chat with foreigners and at the same time improve their level of spoken language, to free online German video courses. For example, our library is now offering the first course of Rosetta Stone for free.
if your child went to a German school, the library must be in his life. Disks What is what (Was ist Was) and Checker Toby, study guides on subjects, books for a home read, etc. etc.
How much does a library in Germany cost?
In fact, the price is within is available to most. For adults, an annual subscription costs 15-20 euros, for children – free of charge or up to 5 euros, depending on the city.
The use of the reading room is usually free of charge.
How to use the library
So you've decided to sign up. You go to the information and in 10 minutes receive your card. You need to take your passport and Aufenthaltstitel. You can begin with a cheap reading card for a child, but usually their library cards are limited: you can take media only in the children's department.
Don't forget to write upon registration your email! Then you will be reminded of the due date by Email, and you can renew the book without going to the library online.
The total number of books and the amount of time you can borrow a book/disc varies from library to library. As a rule, the book is taken for 4 weeks, with the possibility of extending several times. CDs can usually only be borrowed for two weeks.
A book that someone keeps for a long time can be claimed for 1-2 euros by making a reservation (Vormerken). You can also order a book from another library – this will cost you approximately 4 euros (Fernleihe).
The taken book is drawn up, as in a store at the self-service checkout, using a scanner. You bring the library card to the terminal, press Ausleihen and scanned the selected media, then receive a check. There are no terminals in small towns; the librarian passes books through the scanner.
If you forgot/ could not to return the book on time, a fine is charged. If we are talking about several days, then 1-2 euros will run up.
It is not very pleasant if you returned media without part of it – a textbook without answers, a collection of disks without one. Then they send you a reminder by post and charge 1 euro for it.
Therefore, be sure to check if you return all things and their parts. Parts are written on the cover. The board games should be checked both before you take them and before returning them.
You will have to pay for a damaged or lost book / disc / game. But since they are already used, you will have to pay not the entire amount, but taking into account depreciation.
[shariff]
How to use the library online catalog in Germany
Online catalogs can now be of two main types: some libraries have already spent money on a modern catalog and search, others are still hanging on the old OPAC system. Unfortunately, OPAC is a typical example of "digitalition" in Germany: unlogical, unbequem, bad working and time intensive. You can meet also third option: based on OPAC, but with a friendly interface.
Consider all three options:
Munich library – new catalog
Kassel library – intermediate version
Ulm library – old OPAC
Old OPAC system in Ulm
So, let's start with the shameful page of the oldest library in Germany in Ulm. It's a shame for such a large university city to sit on the old software! The software do not have to be also the oldest in Germany.
The worst thing about OPAC is that it doesn't do intuitive search. The best thing you can do is look up the title and author somewhere before (online book stores, Amazon, catalog of the good library) and do an exact search. By the way, sometimes it fails and even with the exact title of the book does not show.
Catalog main page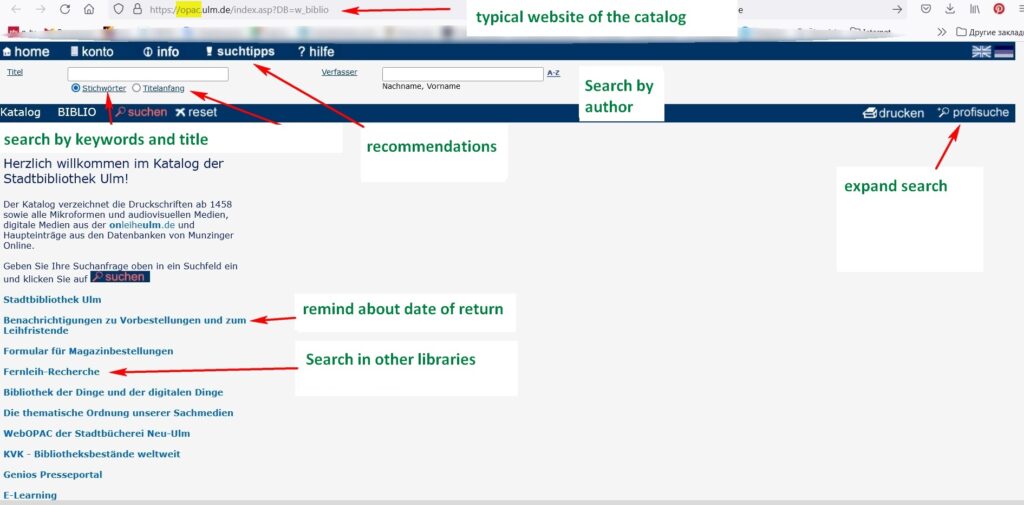 In all three libraries, I am looking for a German book for beginners at level A1. On my request, I get the following picture. The brown icon means a book, the circle means a CD.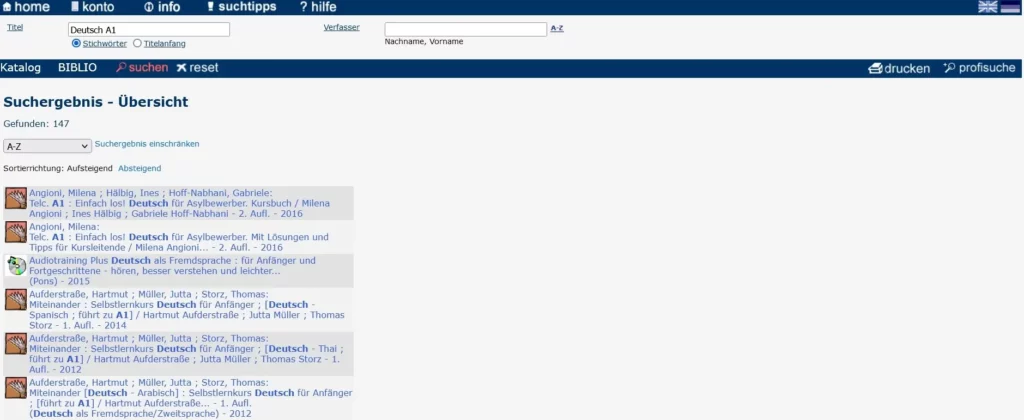 By clicking on one of the titles, I will open the site of the book. What will I find here, besides a description of the book and an indication of whether it is available? It may be convenient to search by keyword. But the keyword "Sprachkurs" is pathetic – half the library will fall on it in the search, and OPAC is also limited in the number of books shown and is buggy if a lot of books fall out as a result.
ISBN will help a lot if you know it, many catalogs respond to it more accurately than to the author or title of the book.
But this book information is more interesting, from which the conclusion is – do not give up right away. There are tags that almost suit us, although they are still too broad. And the keyword is also finally more adequate – DAF (German as a foreign language). Steht bei – a department in a particular library where our book is located.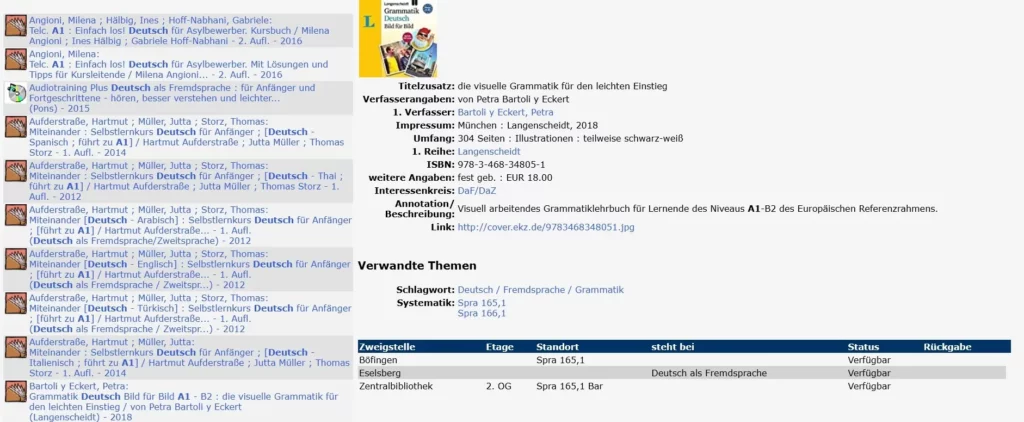 Let's try to find some game. For example, Zug um Zug (Ticket to ride). The name of the game was not found, which happens even if it is available. Something just didn't match. Therefore, I search again, typing Zug in the advanced search and specifying the media type as game, and I am convinced that such a popular game is not in the assortment. Not good, Ulm Library!
What else can I squeeze out of advanced search? Offers for their miserable Interessenkreis (circle of interest). On the word Deutsch, when you press the A-Z button, the available ones come out:

In general, you understand: with the old OPAC, it is better to know the title and author in advance so as not to delve into this unfriendly search.
Intermediate version – OPAC in decent packaging in the Kassel library
This is already something you can live with. Not a trace of the blue-gray screen that I struggled with for 7 years. Significantly more keywords.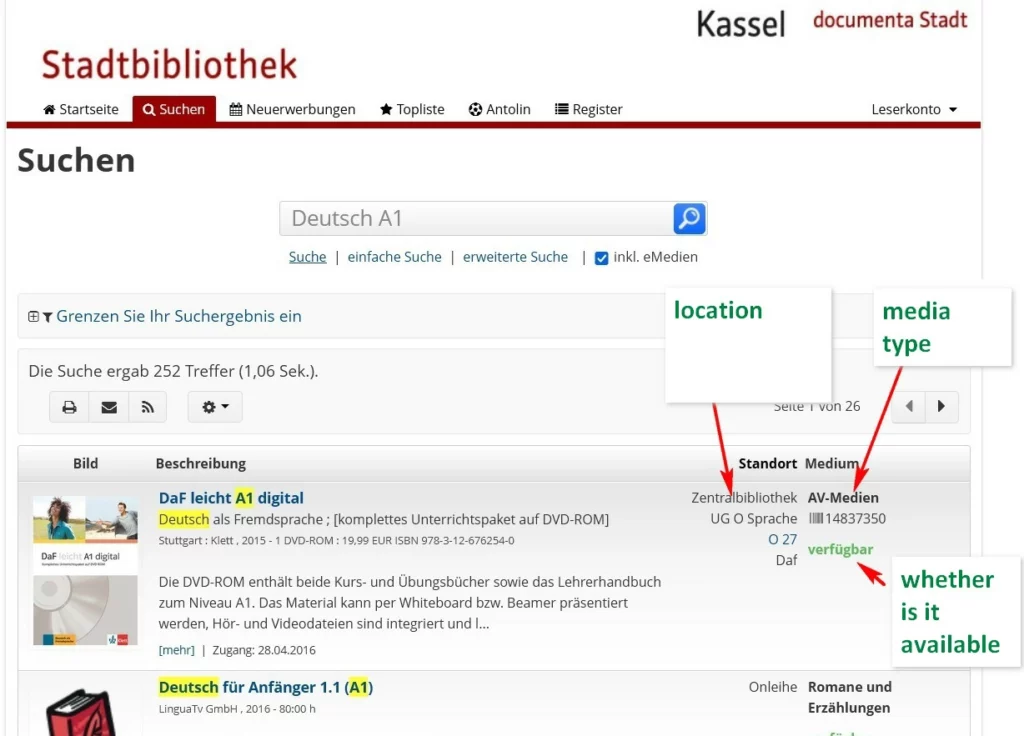 Already a simple search gives a lot of information, including availability and location. Advanced search is not so advanced, but there are also filters (Grenzen Sie Ihr Suchergebnis ein).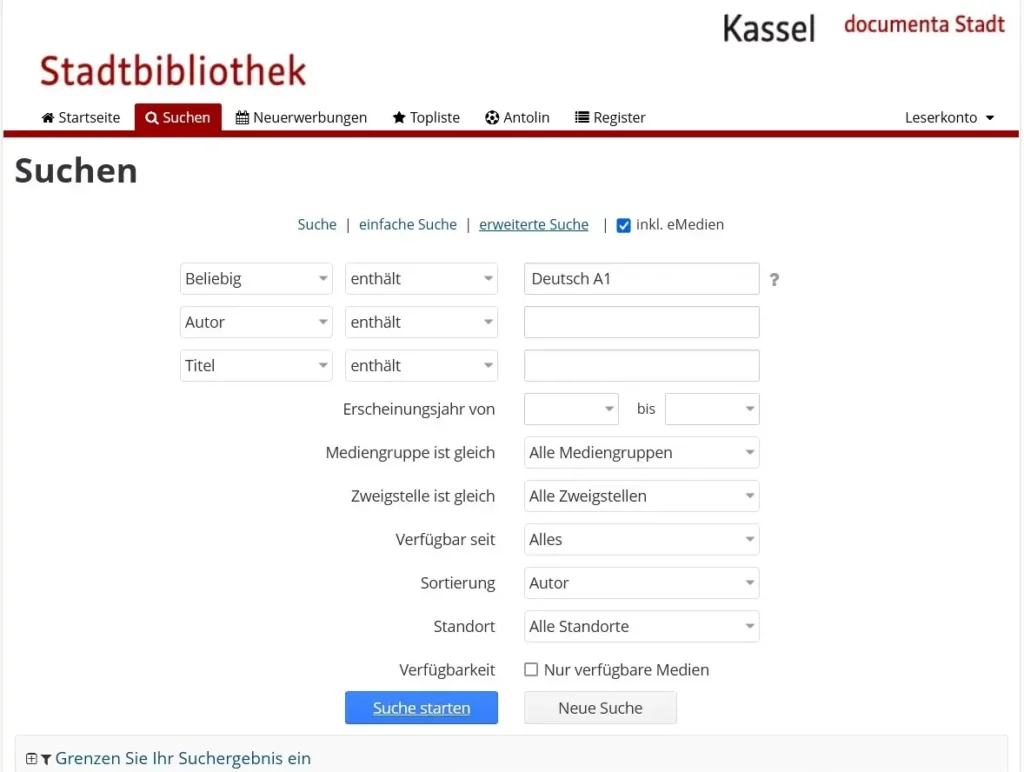 On the book site, we find adequate tags and an indication for the series (which is very convenient for any like Harry Potter).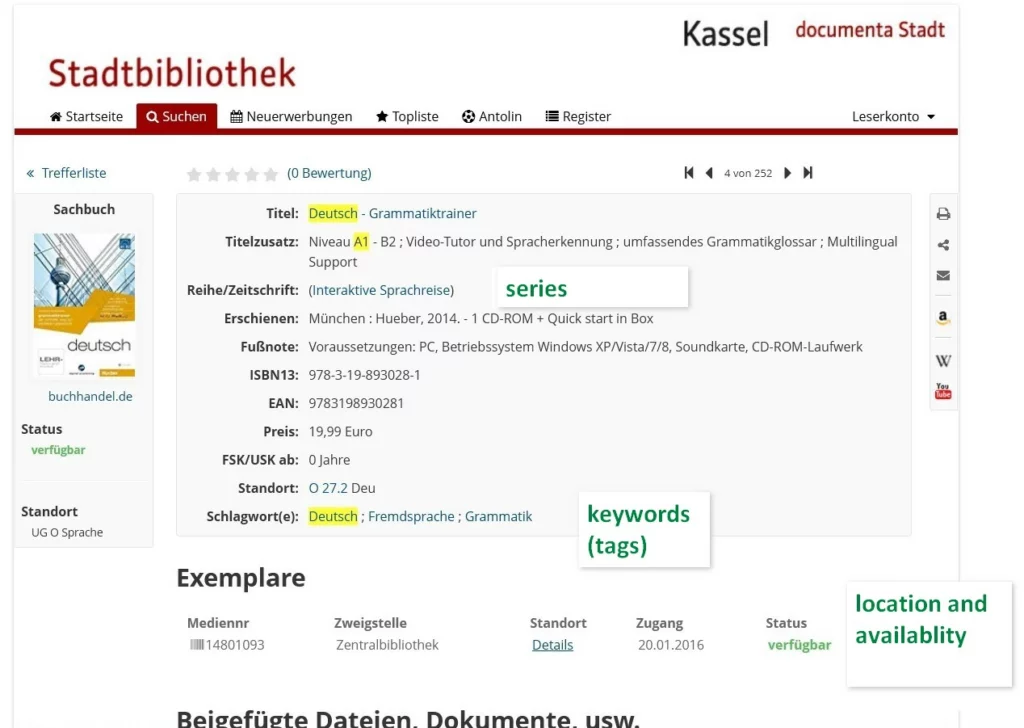 What should really please readers is the Register tab, where you can view the available tags. And there are not nine of them, but much more.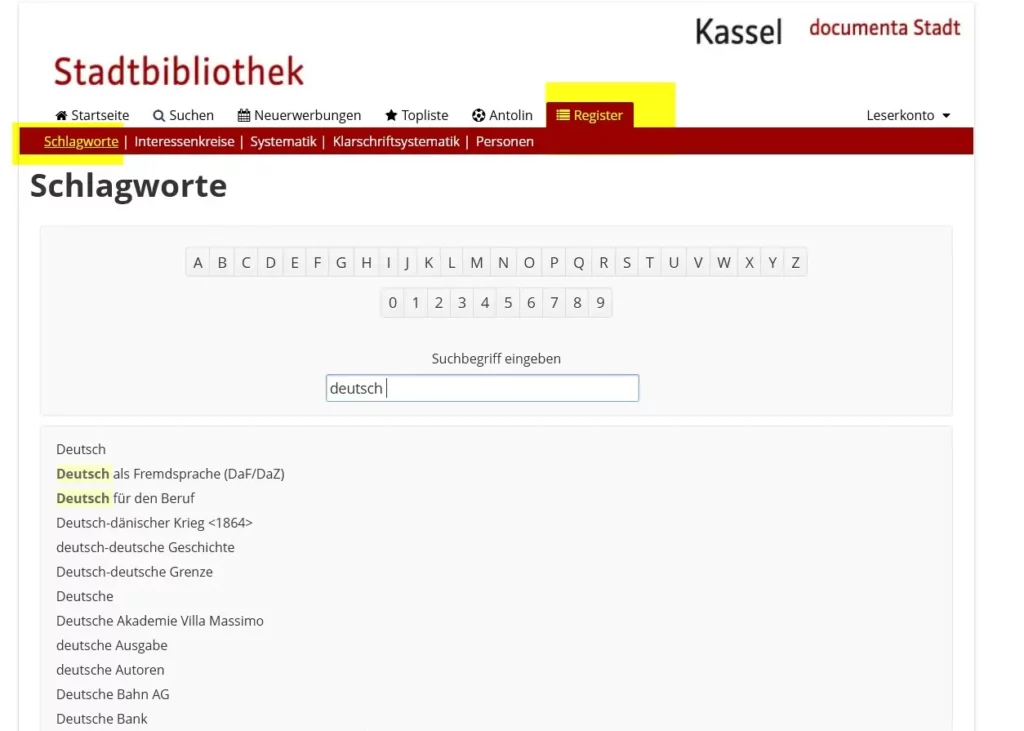 Modern catalog on the example of Munich
But libraries that have switched to modern intuitive software love their readers most of all. Here you can refine your search and filter it already on the search page. The book can be memorized (Merken) or paid pre-order (Vorbestellen).
When searching for Deutsch A1, the Munich library site gives too many options and most of them do not suit us. We can filter them fine by "interests".
In the book card, we will find everything that the library can say about it – tags, if any, taxonomy, search by author, library department, so that you do not have to search for a long time. Click on tags and taxonomy if you want to see the entire range of the library on this topic.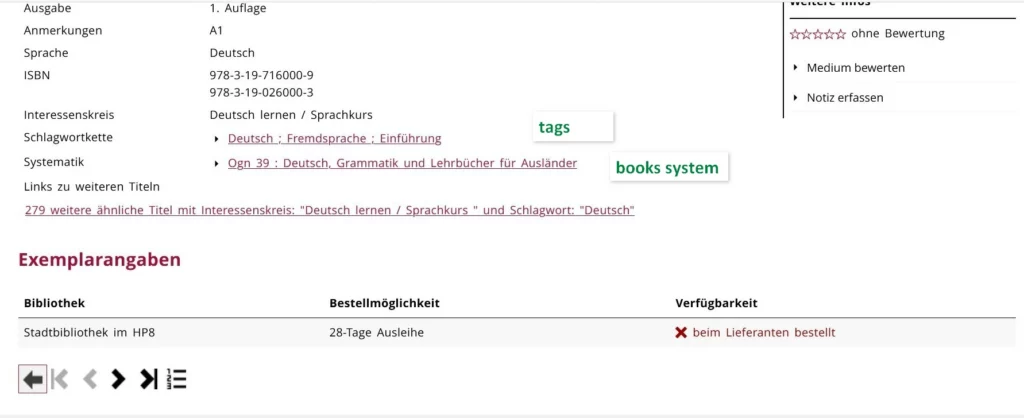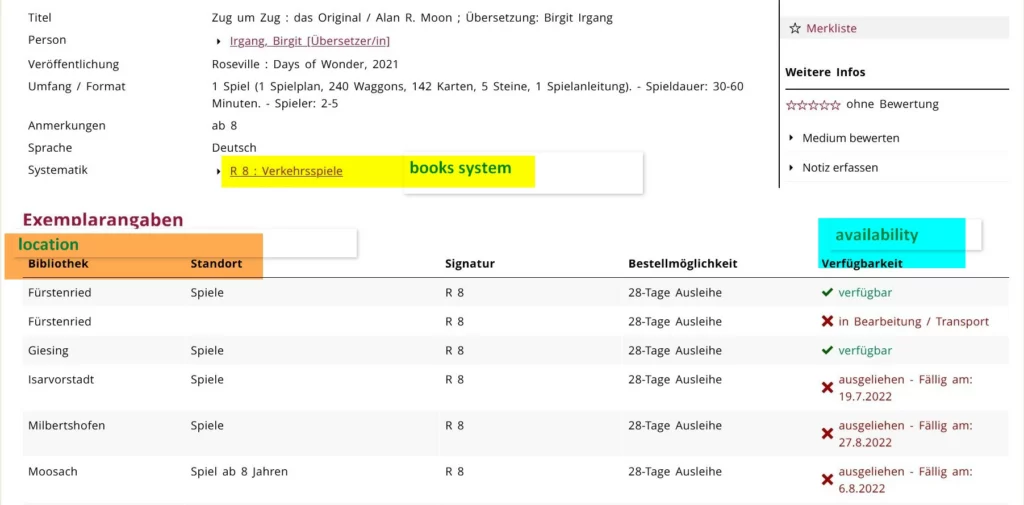 Do you have any more questions? Use comments ⇓ or private communication form ⇨
Online library Onleihe
An online library is a good thing, but you are dependent on gadgets. Previously, the file was downloaded to the gadget and stopped opening when the deadline passed. But a couple of years ago, they made a permanent online confirmation of your right to read a book, so reading in an online library in an e-reader sitting on the North Sea coast without mobile Internet is no longer possible.
The online library contains many modern books. Educational or children's here is not so much. But there are various online courses (e-learning). In different cities, the set in the online library is different.
Online offerings, such as PressReader with the ability to read newspapers in different languages, can also be found on the library's website (the section may be called Digital or Angebote).
All posts about #education in Germany
#new in Germany
#Logo, Ergo and Autism
Do you enjoy the site without cookies and maybe without ads? This means that I work for you at my own expense.
Perhaps you would like to support my work here.
Or Cookie settings change: round sign bottom left