Last Updated on May 18, 2023
For ten years I have tried different word memory programs. The main problem was that I was not satisfied with the translation "word to word". For German language it's simply not enough. Only at the very first stages of learning you can use "naked" word without article and forms.
The advantages of Anki are its amazing flexibility. The disadvantage is the necessity to understand, how it works, if you want something more. However, everything is not complicated and is quite accessible for most users. The most detailed description of the program is given in English.
All posts about Anki
Part 1
Part 2 Editing a deck and notes
Part 3. Creating new notes
Part 4. Editing templates
Part 5. Сloze with typing
Part 6. Add a pronunciation
This guide has been updated for Anki's new design. The old version is not much different. For more important differences, the old version is hidden under spoilers. In the new version, you can click the "Downgrade" button in the "Profiles" window. But in terms of design, the new version is better.
1. I want to start using right away
The program is downloaded free of charge (link). Since it is open source, more than one add-on has been invented for it, which can also be downloaded and installed.
Besides the PC version, there is also an Android version – AnkiDroid. Uploading and synchronization of materials occurs through the site ankiweb.net. And of course, you can explore your own and others' decks on this site online. In one of the following topics, I will tell you how to put your decks on Android without synchronization and ankiweb.net.
So, you've downloaded anyone's decks and want to learn.
We open the program. I show all possibilities on PC version and then, in separate post, how it looks on Tablet and Smartphone. While editing and creating are convenient on PC, less on Tablet-version and not at all on Smartphone-version. But learning is convenient on all versions.
Profiles
Initially, there is only one profile. You may need a second profile if you want to separate your deck groups. For example, you are learning two languages. Or do you want to separate the levels: more advanced words in one profile, and older ones, for repetition, in another. Or you keep your own decks in one profile and downloaded decks in another.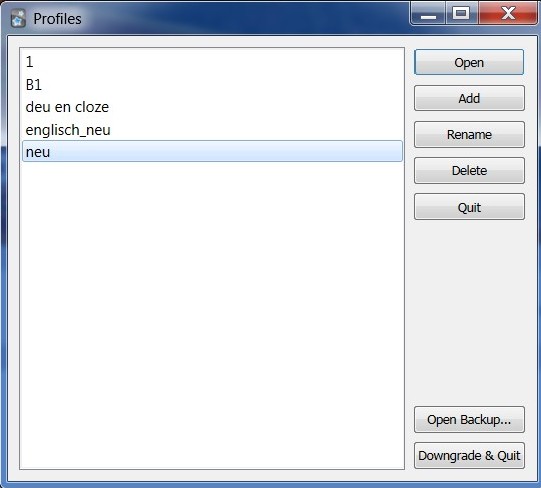 Main window PC version
The main window looks like this.
Button File – to change users, import and export.
Tools – general program settings, the ability to download add-ons, check our cards and the ability to create a new type of cards.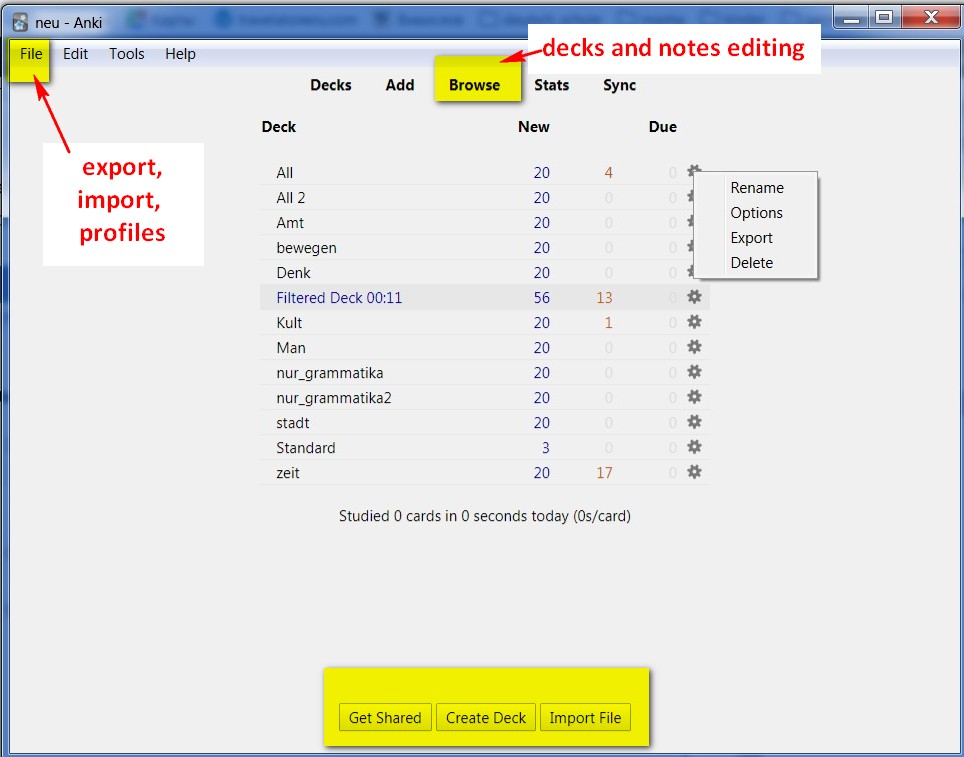 General settings (Preferences) window in Tools. Here you can change interface language. Other preferences you can change later, if you want.
Statistics and synchtronization with ankiweb are above.
Browse is important for editing your cards and creating new cards. We go to Browse in the next post.
New deck
The main window lists your decks. The Default deck appears initially. We do not record anything in Default deck. When you create your decks, this deck will not be shown.
Create, import (if you have a deck on your computer) or download (Get shared) decks with the buttons below.
I can rename, export or delete the deck by clicking on the gear on the side. If I rename the deck like this: Deck 1 :: Deck 2, then the second deck becomes a subdeck.
I can learn the whole deck with the subdecks or just one subdeck. Subdecks are handy when you have a lot of words and you don't have enough word for learning because of limits of learning per deck. You can learn only 20-30 new words per day, if you choose deck, and you can learn 20-30 words x amount of the subdecks per day, if you choose subdecks.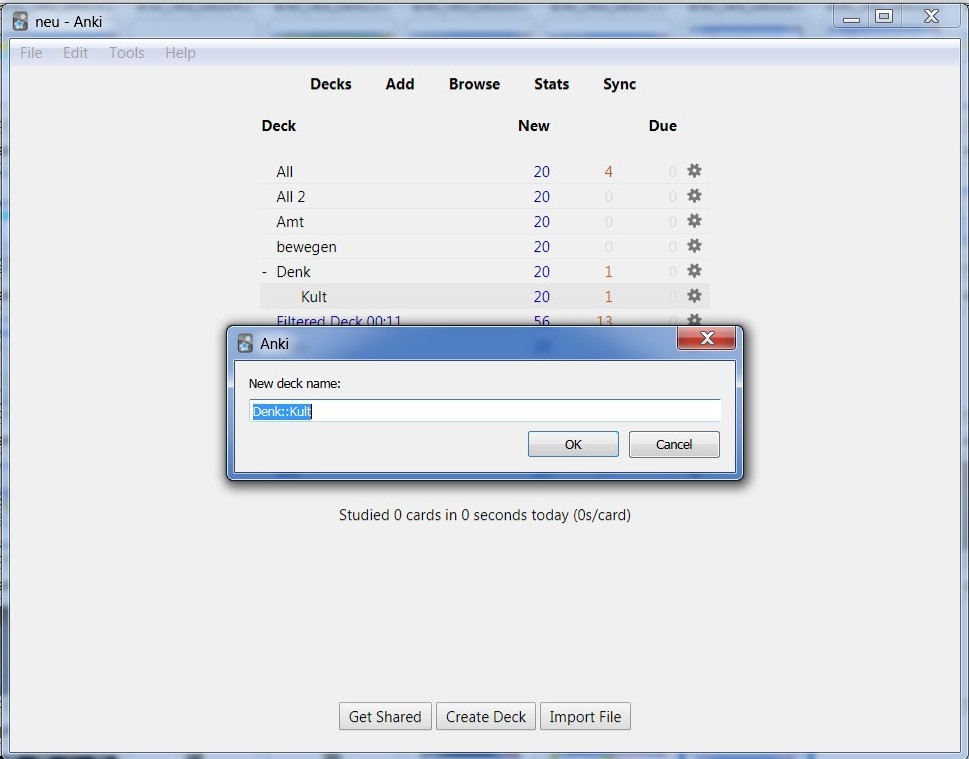 Learning
The gear next to the deck allows you to customize the learning (Options).
We can change the conditions for repeating words. For example, choose a different number of days for words that we designated as simple, or the number of new words. At first, the preset data is usually enough, since you need to use it and see what interval and quantity will be more convenient for you personally.
Changing learning settings can be done for one deck or for all. You can create a group of decks with the same settings (Add)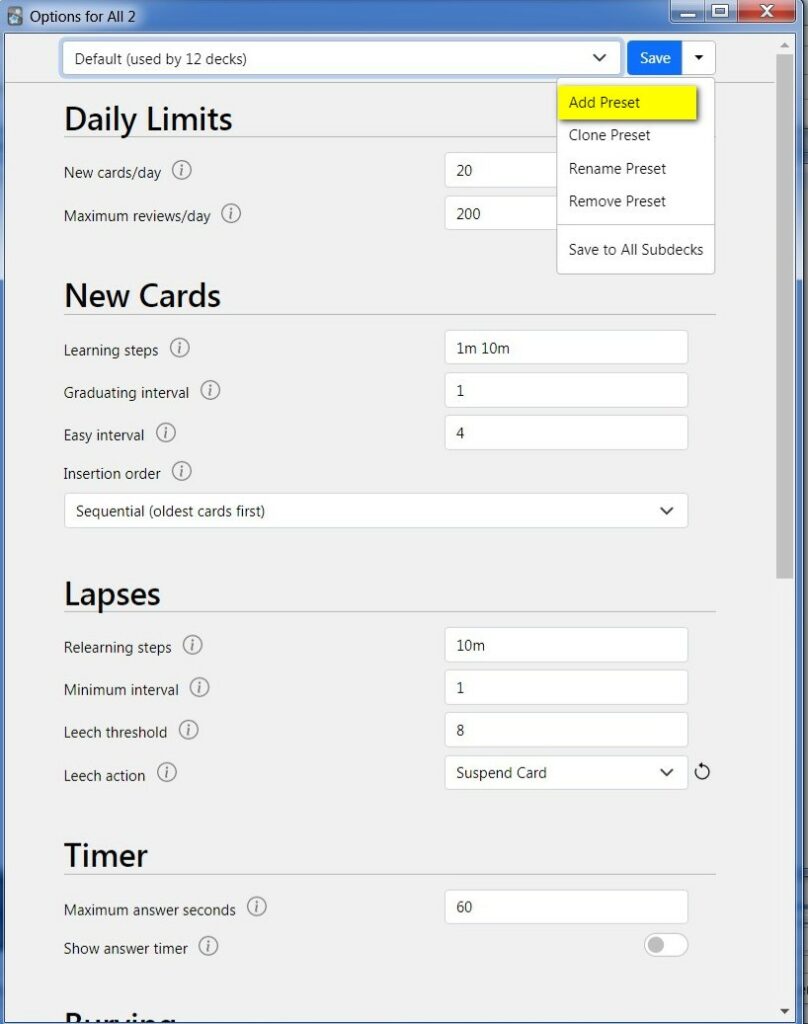 That's all, now you can study right away. Click on the deck in the list or on Tools – Study deck and select the desired deck / subdeck. Such a window appears.
Click on Study now. The word appears and you have to remember the translation.
Show Answer button – the whole card is shown. I have here, in addition to the word and examples to it, grammar, translation. In next posts I show, how you can change your cards. There is also a function to typing a word, but more on that later.
You can immediately edit the card (the Edit button), remove it from sight or completely delete it (the More button below).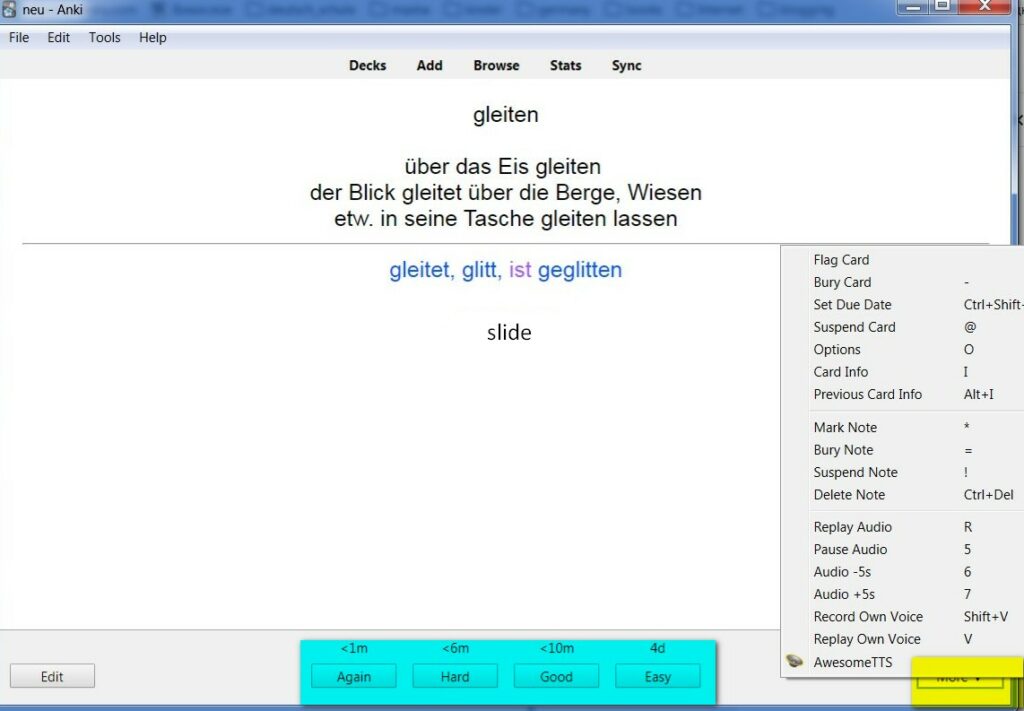 After receiving the answer, you should mark the level of knowledge of the card: forgot (again), normal, easy. It will depend on this when it is shown to you next time.
Next – how to edit cards.
Other posts – #anki
Do you enjoy the site without cookies and maybe without ads? This means that I work for you at my own expense.
Perhaps you would like to support my work here.
Or Cookie settings change: round sign bottom left